Sometimes delays can occur for SmartExchange™ transactions. This is where you'll notice the "Transaction pending confirmation" note on your transaction detail.

This delay happens between the point of your purchase and the confirmation of your transaction from our payment processor. This could lead to slight changes in the final transaction amount eventually which could be higher or lower than the initial indication of the rate and transaction amount.

Rest assured that this will always be the best rate available, at Wholesale Exchange Rates with no markups.

Here's an example of what a pending transaction looks like: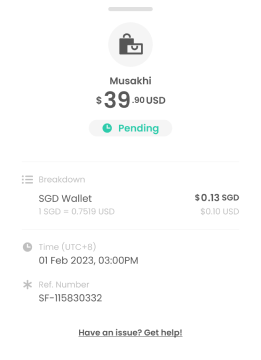 Just for your information, the majority of transactions (~95%) are processed within the next day, at 01:00 Singapore Time. On some rare occasions, longer delays may be experienced during events such as scheduled server maintenance or technical outages.