As a YouTrip user, we have partnered with HL Assurance Pte. Ltd to provide you access to exclusive cashback promotions when you purchase your travel insurance with us!

To opt for single-trip insurance for your next travel,

Step 1: Select the 'Insurance' icon at the bottom of the YouTrip app homepage


Step 2: Select your travel region, input your travel dates of up to 182 days,
and input your promo code (if any).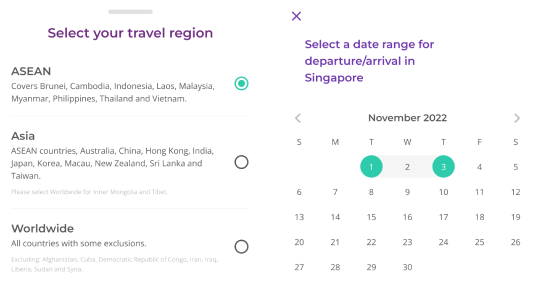 Step 3: Review your insurance coverage and personal particulars!

It's that easy!

Once purchased, the policy details will be sent to your registered email address by HL Assurance Pte. Ltd.

Do note that insurance premium inclusive of promo code discount (if any) would be displayed upon checking out, along with the corresponding cashback to be earned* from the purchase.

*Cashback will be credited every 5th of the following month (eg. policies purchased in July will be awarded cashback on 5th August the following month).

You may also refer to the following Terms & Conditions to learn more about your policy conditions.

We only offer single-trip insurance at the moment. In order to apply, you'll need to:
Be a YouTrip user aged 18 and above

Have an updated app version 3.34.0 and above

Have a locally-registered phone number. To update your number, you may refer to the following FAQ:

How do I update my phone number